'I'm having to talk to people': O2 customers find the funny side of data outage
6 December 2018 National
---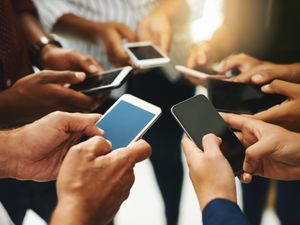 So when millions of O2 users were left without mobile internet today, they were cast adrift.
Luckily, some of those affected were able to access WiFi and have been able to share their experiences from the other side with the rest of us.
We've learned that commuters found themselves paralysed by fear at the prospect of talking to someone else…
Or struggled with the "disconcerting" novelty of eye contact…
People were forced to print off maps or ask others for directions…
And even those who weren't on the network were forced to grapple with social crisis…
Customers of one particular network became very conspicuous on buses and trains…
And when their Twitter observations did hit the big time, they remained blissfully unaware of their internet fame…
Some O2 customers embraced the unexpected liberation from constant connectivity…
(Some more than others)
Others regarded it as an opportunity to learn a lost communications skill…
For a zoo in Yorkshire, the outage was one of many indications of ongoing apocalypse…
And one Scottish police force noted some very suspicious activity as people's phones were rendered useless…
However, a few users also issued the important reminder that front line call centre staff might need a bit of support today…
O2 has said it is working on fixing the outage, but it won't be sorted until Friday.
(c) Sky News 2018:
'I'm having to talk to people': O2 customers find the funny side of data outage
---
HitMix News Headlines, National, News, Sky News